TC306
This series is a heavy duty thermostat. It carries a bi-metal disc which gives a snap-action to open and close the thermostat according to the requested ambient temperature and over-heat protection. Various option in terminal combination–SPST or SPDT. It offers high-precision temperature control with large wattage loading. It is commonly applied in Electrical Water Heater,Heating Equipment,and household heater.
TC306 is auto-reset feature. There are normally open and normally closed.
TC306P is a manual-reset thermostat. It carries a PTC pellet. When the thermostat opens, the PTC will be heated up to keep the thermostat at its pen-status, until the power input is unplug.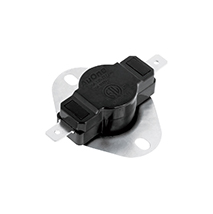 Specification
Rating

SPST: 120-277V AC, 26A / 600V AC, 10A (resistive load) UL/CUL/ETL
SPDT: Contact 1&2: 120-277V AC 26A / 600V AC, 10A (resistive load)

UL/CUL
Contact 1&3: 120-277V AC, 10A (resistive load) UL/CUL
120-277V AC, 6A (inductive load) UL/CUL
Maximum rated Temperature
140℃ (UL/CUL)
160℃ (ETL)
Endurance
100,000 cycles
Hi-pot
1500V AC 1 min
Safety Compliance

UL / CUL/ETL / RoHS / REACH